Okay people, I have to confess that after almost two months without red meat, I caved yesterday and made steaks on the bbq:( No judgements please! As you all know, it is extremely difficult letting old habits die. On the side of my meat eater friends, however, let it be known that it tasted damn good! As I gather my thoughts about a healthier lifestyle, I realize that it will take some time to allow new food discoveries to replace old recipes, and that's fine with me. I hope that you all don't mind going on the journey to cleaner eating because I will definitely need friends along the way.
If you know me, you also know that I am a huge fan of appetizers, and I happened to find a few exciting Vegan ones that incorporates clean eating, but also serves as comfort food. These apps would be great for guests when they arrive for Thanksgiving dinner, paired with a little cider of course! Take a look at the delicious menu: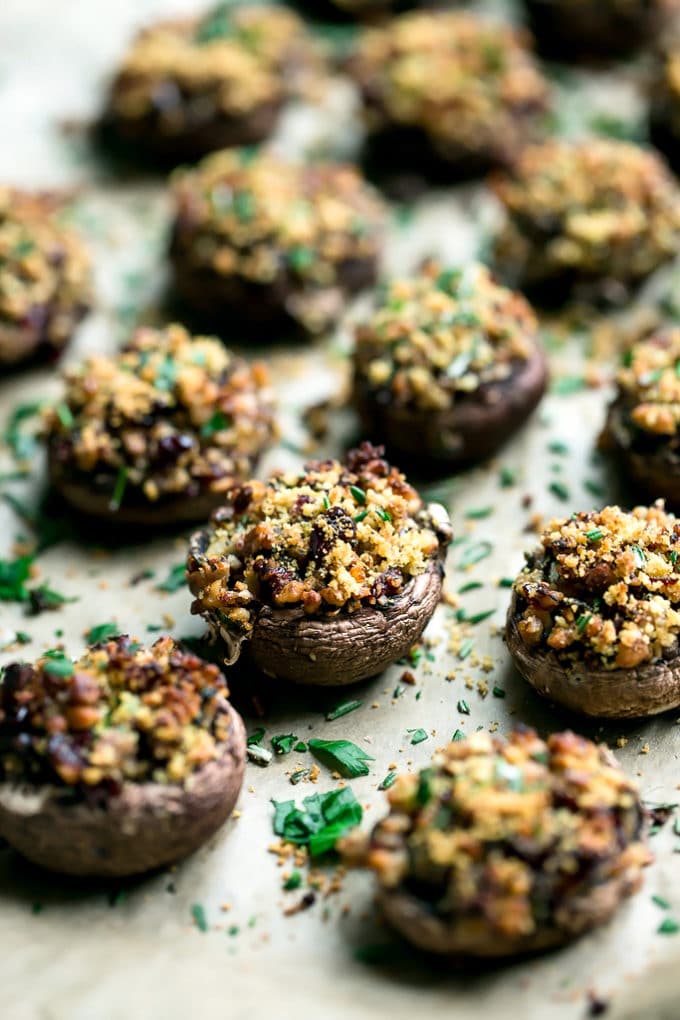 VEGAN WALNUT, SAGE + CRANBERRY STUFFED HOLIDAY MUSHROOMS
Ingredients
1 pound large cremini mushrooms or small portobello mushrooms (stemmed, 16 ounces, about 12 mushrooms with a 2-inch diameter)
1 1/4 cups raw walnut pieces, divided
2 cloves garlic, smashed and peeled
1 tablespoon extra-virgin olive oil
1/2 cup finely diced shallots (about 2 medium shallots)
2 tablespoons finely chopped sage leaves
2 teaspoons minced fresh rosemary
1/4 teaspoon dried thyme
1/4 teaspoon plus 1/8 sea salt, divided, plus more to taste
Freshly ground black pepper, to taste
1/3 cup dried cranberries, finely chopped
1 teaspoon sherry vinegar
1 tablespoon nutritional yeast flakes (for the walnut "parmesan")
1/4 cup flat-leaf parsley, stemmed and finely chopped (optional)
Instructions
Preheat oven to 400F. Line a large baking sheet with parchment paper.
Use a small spoon to gently scrape away the gills from each mushroom. You'll be surprised how much you'll scrape out of those little mushrooms, and more space equals more filling!
Add 1 cup of the walnuts and the garlic to a small food processor and pulse 15 to 20 times, or until very finely chopped or coarsely minced.
Heat a large sauté pan over medium-low heat and add the olive oil, walnut mixture, shallots, sage, rosemary, thyme, 1/4 teaspoon of the sea salt, and black pepper, and continue to cook for 5 minutes, or until the shallots soften and the walnuts are lightly toasted, stirring frequently. Remove from the heat and stir in the cranberries and sherry vinegar. Taste and season with more sea salt and black pepper, if desired (I recommend adding another 1/8 to 1/4 teaspoon sea salt and another pinch of black pepper).
Prepare the walnut "parmesan" topping (if using). Add the remaining 1/4 cup walnuts and 1/8 teaspoon sea salt to a small food processor along with the nutritional yeast flakes. Process for 20 seconds, or until the mixture resembles finely grated parmesan cheese. Set aside.
One at a time, pick up each mushroom and use a small spoon to fill it. Use the back of the spoon to gently compact the mixture into the mushroom cap and transfer to the lined baking tray. Repeat, stuffing all of the mushrooms. (I find it easiest to hold the mushrooms over the pan with the walnut filling while stuffing. That way, excess filling falls back into the pan instead of on the lined tray.) Sprinkle the top of each mushroom with a generous pinch of the walnut "parmesan" (if using). (You'll have quite a bit of leftover parmesan that you can use to garnish before serving.)
Bake for 16 to 20 minutes, or until the mushrooms are tender and the top of the filling is golden brown.
If desired, garnish the mushrooms with another pinch of parmesan and sprinkle with the parsley. Serve immediately.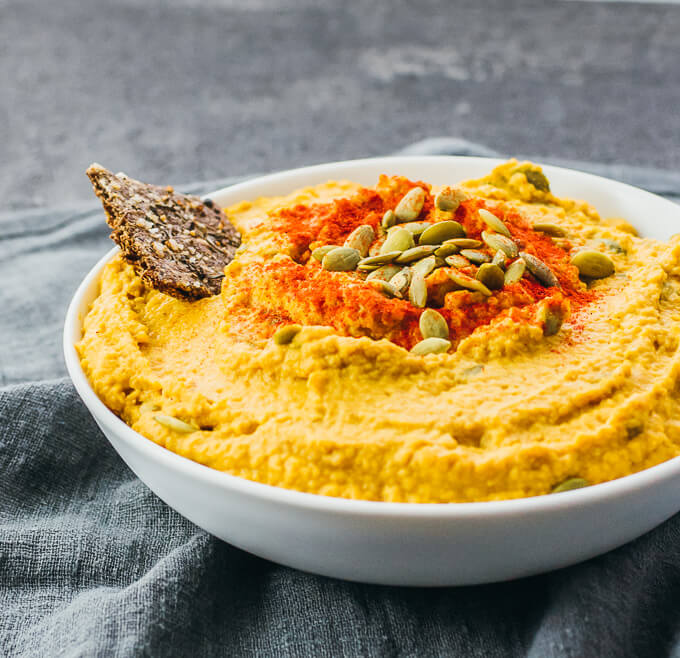 Spiced Pumpkin Hummus Dip
INGREDIENTS
For the seasonings:
INSTRUCTIONS
Add chickpeas, pumpkin, tahini, lemon juice, and olive oil to a food processor. Puree until smooth.
Add all seasonings to the food processor. Puree again until smooth, pausing once to scrape down the sides of the bowl.
Transfer the mixture to a lidded container. Stir in pumpkin seeds. Cover and refrigerate until cold.
For serving, optionally garnish with additional pumpkin seeds and ground paprika, and serve with crackers, baby carrots, or roasted vegetables.
Vegan Spinach Puffs
Ingredients
1 cup raw cashews, soaked in water 4-8 hours
1/2 cup unflavored and unsweetened soy or almond milk
1 1/2 tablespoons lemon juice
2 garlic cloves
1 teaspoon salt
1 (10 ounce) package frozen spinach, thawed
1 small onion, chopped
2 tablespoons chopped fresh dill
1 (17.3 ounce package) puff pastry (2 sheets. Check the label to ensure it's vegan — many brands are.)
Olive oil
Instructions
Preheat the oven to 400° and lightly oil 2 standard-size muffin tins. (You'll need 18 cavities, so you can use 2 tins, 1 tin with 18 cavities — if you can find it — or use a single tin but cook the puffs in 2 batches.)
Place the cashews, milk, lemon juice, garlic, and salt into a food processor and blend until smooth, stopping to scrape down the sides of the bowl as needed.
Drain the spinach and squeeze it to remove as much moisture as possible. Add the spinach to the food processor bowl, along with the onion and dill. Pulse until the ingredients are fully mixed.
Cut each sheet of puff pastry into 3 strips of equal length, and then cut each strip into thirds, making 18 squares. Place each square into the bottom of a muffin cavity, stretching it out just a bit by hand if needed so the corners reach a bit beyond the top of the cavity. Spoon about 2 tablespoons of the spinach mixture into each puff pastry square. Fold the corners of each square inward and pinch then together at the center. Brush the top of each puff with a bit of olive oil.
Bake until the puffs are lightly browned and puffy, about 25 minutes. Remove the tins from the oven and allow them to cool a bit before removing the puffs. Loosen the puffs from the tin by placing a knife down the side, between the puff and the tin. 
Serve.
*All recipes taken from staceyhomemaker.com
For those of you who will be at someone's house for dinner, you should definitely be the one to make the apps, the dessert, or the drinks;) I've set you up with some great ideas to run with, and you know what I always say, "Go ahead and take all the credit…you deserve it!" Take those Thanksgiving pics in the kitchen and remember to share them with all of us. We would love to know how it goes! I will also attempt a Thanksgiving prep video for you all in my own kitchen, so look out for that treat! Until next time, happy Tuesday everyone!