Happy New Year to all of you and welcome back to a fun-filled, action-packed agenda for 2021! I have to say that it is quite refreshing to turn over a new leaf, and concentrate on what's ahead, rather than what's behind us. This year I had the privilege of hitting 40, and boy was it ever fabulous! Celebrations were minimum with my family at home, but I dressed to kill in a black dress with heels! Listen, you gotta go big or go home for these milestones, right? Life might feel impossible to control right now, but the one thing you should always be thankful for is more of it;) When I reflect on the road I've travelled to get here, I might have needed higher heels to celebrate! Forty is what you make it to be, and with lots of self-care and love, you will be fabulous at whatever age you're rocking this year too!
I thought we could start this party train with some delicious Fajitas to make dinner exciting tonight, but first I thought we'd slow down to discover something new in the world of ingredients: Liquid smoke.
According to thespruceeats.com:
"Liquid smoke is a natural byproduct of burning wood. The exhaust of a wood fire is basically smoke and steam; fire produces water in the form of vapor, and this vapor, condensed through a cooled tubing, captures the smoke. This liquid is distilled into a concentrate and filtered of its impurities (soot and ash). What is left is a yellowish-brown substance that is liquid smoke. Most brands of liquid smoke are inexpensive."
Has anyone ever had the chance to use this product in their recipes? I can say that I have not, although I'm a bit tickled about giving it a try. I'm wondering if that barbequed, smoky flavour will be present in the chicken as we prepare it? Well, we are definitely about to find out….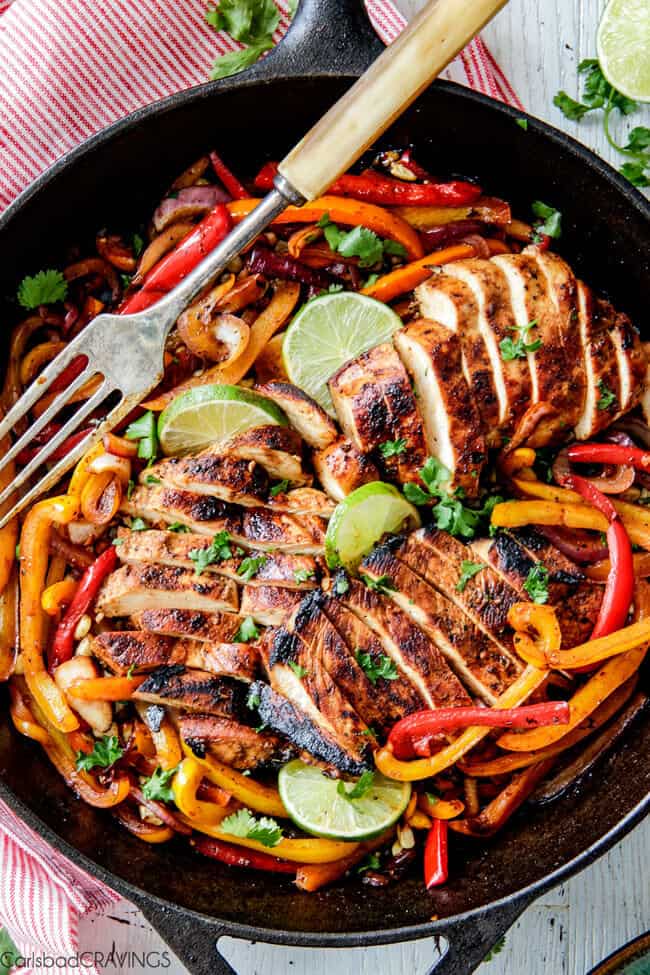 Skillet Chicken Fajitas
Ingredients: 2 large chicken breastssliced horizontally to create 4 fillets (1 1/2 pounds)1/2 red onion, thinly sliced3 bell peppers, thinly sliced (any mix of colors)8-12 flour tortillas
Chicken Fajita Marinade: 2tablespoons olive oil3tablespoons brown sugar2tablespoons orange juice2tablespoons lime juice2tablespoons reduced sodium soy sauce1tablespoon Dijon mustard1tablespoon chili powder1 1/2teaspoons ground cumin1tsp EACH garlic pwdr, onion pwdr, salt1/2tsp EACH smoked paprika, chipotle chili pwdr, dried oregano1/4teaspoon pepper2teaspoons liquid smoke
Chipotle Lime Crema (optional):1cup sour cream2tablespoons mayonnaise1-2tablespoons lime juice, to taste1/2teaspoon salt1/4 – 1/2teaspoon chipotle chili powder1/4cup packed cilantro, finely chopped
Filling/Topping Ideas:
cheeseGuacamole/chopped avocadosRecipe Avocado Crema(my FAV!)salsaChopped tomatoesblack beanscilantroFreshly squeezed lime juice
Instructions: MARINADE In a large freezer bag, whisk together all of the Chicken Fajita Marinade ingredients. Remove 2 tablespoons to use later for vegetables. Add chicken to freezer bag and toss to coat. Marinate in the refrigerator 6 hours up to overnight (longer the better).CHIPOTLE LIME CREMA (optional): Whisk together all of the ingredients. Refrigerate in an airtight container until ready to use. CHICKEN: When ready to cook, let chicken sit at room temperature for 15-30 minutes. Heat 1 tablespoon olive oil in a large skillet over medium high heat. Once very hot, dab excess marinade off chicken and add to skillet. Cook chicken undisturbed for 2-3 minutes, or until nicely browned (or blackened if you prefer) on one side. Turn chicken over, cover, and reduce heat to medium. Cook for approximately 2-4 more minutes (depending on thickness of chicken), or until chicken is cooked through. Remove to a cutting board, tent with foil and let rest 5 minutes before slicing across the grain into strips. VEGETABLES: Meanwhile, Add 1 tablespoon oil to the leftover juices in the skillet along with reserved 2 tablespoons marinade. Heat over medium high heat. Add onions and saute 1 minute. Add bell peppers and saute for 3-4 minutes or until crisp-tender. Add sliced chicken and toss to coat. ASSEMBLE: Layer tortillas with Chicken Fajita mixture and desired toppings. Top with Chipotle Lime Crema.
*Total time does not including maintaining as this will vary between individuals
HOW TO WARM OR CHAR TORTILLAS
I HIGHLY recommend warming the tortillas first using any of the following methods:
Open Flame (gas stove or grill): add the tortillas directly to the burner of your gas stove then flip with tongs once they are charred on one side. You can also accomplish this on the grill as well. If you are using lower quality tortillas, you will want to take special care not to over-char or they will become brittle and break. You still want the tortillas soft and pliable.
Skillet: heat a skillet (or griddle if you have one) to medium high heat (do not grease). Working with one tortilla at a time (more for a griddle), heat each side of the tortilla for approximately 20-30 seconds until warm and soft. You are not looking for char marks with this method.
Microwave: working with about 5 tortillas at a time, stack tortillas on a microwave safe plate and cover with a damp paper towel. Microwave for 20 seconds on high, then repeat at 10 second intervals if needed until warmed through.
Oven: create separate stacks of about 5 tortillas each, then wrap each stack in foil. Bake at 350 degrees F for 15-20 minutes or until heated through (you can bake all stacks at once).
*Recipe taken from carlsbadcravings.com
For those of you who would like give a more detailed recipe of the Avacado Crema a try, I have attached the recipe below for you to go nuts with! Let me know if this recipe was a yay or nay, and if you could get your hands on that liquid smoke. Enjoy every bit of your Mexican dinner tonight, and happy Tuesday everyone!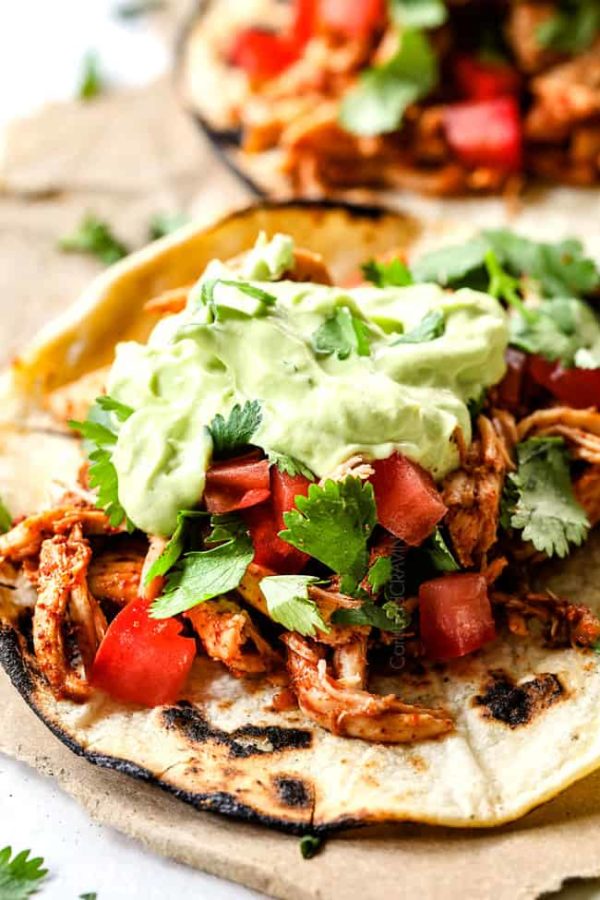 Avacado Crema
Ingredients: 1 medium avocado (not large)
1/2cup sour cream or Greek yogurt
2tablespoons mayonnaise
1tablespoon lime juice
1/2teaspoon salt
1/4teaspoon ground cumin
1/4teaspoon garlic powder
Instructions: Add all of the Avocado Crema ingredients to your blender and blend until smooth, scraping sides down as needed.Avocado Crema may be made 8 hours ahead of time and refrigerated in an airtight container with plastic wrap pressed directly to the surface of the crema.
HOW TO STORE AVOCADO CREMA
This Avocado Crema can be made and stored in the refrigerator in an airtight container for up to 3 days IF you transfer the crema to an airtight container and place a piece of plastic wrap directly on the surface of the crema before adding the lid. This will delay oxidization/browning that occurs when the surface of the dip/avocado come in contact with air.
The lime juice will also prevent the Avocado Crema from discoloring too much, but within the 3 days the very top layer will darken slightly. I only notice a slight change in color as I stir the crema around. A change in color of the crema isn't bad, it simply means the dip is oxidizing.
*Recipe taken from carlsbadcravings.com