Summer BBQ
The host of your bbq may not be too hot about receiving wine, and that's fine! Not everyone likes to drink. Why not grab an infused olive oil set to make you look fancy. Now, that is a pretty fabulous idea!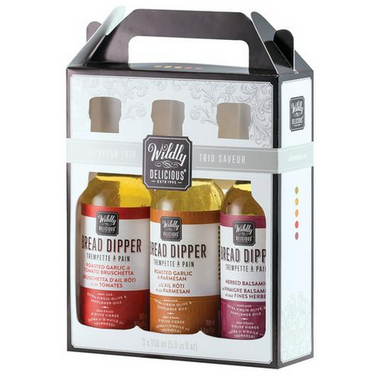 Wildly Delicious Bread Dipper Trio, $21.48, Well.ca
Instead of flowers, consider bringing a herb plant to your next gathering. Guaranteed you will get a ten for creativity.
If you are in charge of bringing drinks, buy the ingredients and drinkware instead.  Wrap it up nicely, complete with a recipe attached.
Bake your dessert ahead of time and fit it into a new baking dish. Wrap it and it will make a fabulous hostess gift.
Thanksgiving
Pumpkin cake! Use a bundt cake pan and make two cakes, one upside down and the other right side up with a little icing in the centre. Pour icing down the middle and get creative with the stem and leaf if you are not able to use fondant. It's a perfect dessert gift and a great conversational piece for the table.
Decorate your wine bottles with beautiful ribbon and cut out leaf shapes using coloured construction paper. Print a special "thank you" message on one of the leaves, and make an ordinary bottle, extraordinary bubbly for a Thanksgiving table.
Timbits anyone? Isn't this idea fantastic? Dip half of the timbit piece in chocolate and then in nuts or sprinkles. Add a pretzel stick on the top and get rave reviews for a small token of appreciation, done with a personal touch. Acorns, who knew it could be so easy?
Father's Day Gifts
If the special man in your life is anything like mine, giving him the chance to play golf with a few buddies for the day is the way to go. They will enjoy friendly competition, a day out with the guys, and being one with nature. The perfect recipe for a relaxed dad! The Royal Ashburn golf club in Brooklin is a great place for dad to feel like royalty.
Grilling is the best way to a man's heart! You can gather his favourite sauces, barbeque utensils and maybe even a cute "Dad is the Grilling King" apron, and make a unique gift that he's sure to love. Check out HomeSense for interesting grilling sauces and apron, and Superstore for the great utensils!
Tickle dad's senses with this fabulous mustache cake from Dairy Queen. For only $27.99 you could make Father's Day a real treat!
Breakfast in bed has always been a classic. You can never go wrong with a warm cup of coffee and heart-shaped pancakes. Nothing says, "I love you," like breakfast from the family.
Christmas Gifts
Everytime I see fur I think LUXE! This is a great gift for the host/hostess of any holiday party you attend this season, that brings glam to an ordinary bottle of wine! You can find them at HomeSense for under $10.
How creative! Make gourmet candy canes for someone special by dipping a few into your favourite chocolates and dessert toppings! They are a fancy way of making someone feel special, but keeps you on budget!
I absolutely love these dolls because they have beautiful features and a whole lot of character! Buy one for that special little girl in your life and she will be thrilled! You can find the Journey Girl dolls at Toys R Us for $34.00.
Go retro for the boys and buy a gaming system that will bring you back down memory lane, and bring authenticity back to your child's video game play! You can find this system at Bed Bath and Beyond for $49.99.
We can't forget our fury little friends over the holidays, and nothing says lovin' like a "Happy Dog Meal" that they could enjoy! You could find this all natural  gourmet treat at Bed Bath and beyond for $7.99.
These slippers are perfect for pampering that special woman in your life! You can pop them in the microwave to be heated up and it also gives off a refreshing scent that will make her feel like she is at a spa! You can find these slippers at HomeSense for $19.99.
Keep him organized this holiday season by giving him a watch holder. This gift will keep the man in your life looking sharp and well coordinated. If you don't want to stop there, you can take organization to the next level by getting him a full Valet. If he has a hard time putting an outfit together, this will definitely help him to accomplish that. You can find these products at Bed Bath and Beyond for $39.00 and $129.00.
This gift is absolutely adorable for the couple celebrating the holidays together! It is a personalized map of the area where they met with a heart in the space where their relationship first began! If this is not the most romantic gift on the planet, then I don't know my stuff! Men, take note! This item is called the "We First Met Here" puzzle and you can find it online at Gifts.com for $39.95.
Thanksgiving
This is a great dinner host gift idea for the holidays that requires absolutely no prep time in the kitchen! Make a fabulous playlist of his or her favourite tunes, along with throwbacks that will keep conversations and laughter around the Thanksgiving table going for hours. Be sure to take the time to make a thoughtful cover and throw in some fun pics and a special dedication on the inside, and I guarantee your host will be impressed!
If you are bringing the dessert to the Thanksgiving feast, make sure to pack some tea and stop by HomeSense for Honey Spoons ($5.99) that are sure to be a sweet end to a fabulous dinner. The honey melts right into the tea as you stir and there are many other flavours if you want to be adventurous.  Give tea and dessert a new twist for that special night with special people.
Candied apples anyone? So, what if you swapped the typical pie for something more exciting and easy to whip up? There are endless ways to spruce up some regular apples from white and dark chocolate dipped to spiced cinnamon caramel.  Just push sticks into the core, dip them into whatever your heart desires, and half dip them in pie crumble while they are still wet. Put them into fun cupcake liners and you could even add some ribbon and make cute bows for a gourmet look. What a sweet treat!
Look at what you can do with the drinks you are on the list to show up with to Thanksgiving dinner! It does take a bit of planning beforehand, but if you are up to carving a pumpkin then this idea is for you! Simply cut the pumpkin's top half off, scoop away the inside until it is clean, and even slide in a glass bowl after cleaning if possible. If you are very creative and confident you could paint around the outside in white, making curly lines and a message like "Give Thanks". When you get to the party, simply add your drinks and ice to your pumpkin ice bucket. I guarantee you will be known as the Martha Stewart of holiday beverages!