So, it's official! It snowed this morning, and the very sight of it instantly gave everyone the winter blues:( You have to admit that moving from summer weather the week before, to a white Christmas in the middle of November, isn't the most exciting news. As a matter of fact, I was thinking that it might be time to invest in one of those alarm clocks that mimic the sun rising as it goes off. Seriously! The time change thing is really messing with me as I get older, and I realize how dependent I am on the sun's rays for my energy and vitality. Does this sound like any of you?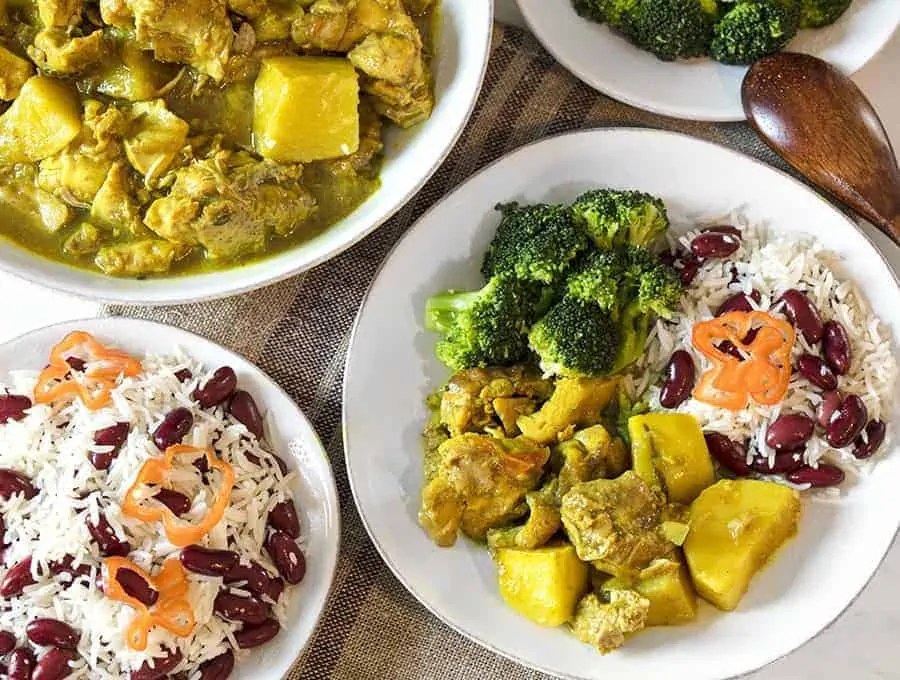 I will make my way to the heart of this segment, which is Caribbean-inspired flavours for the cold, almost winter days. There is nothing better than a gorgeous bowl of chicken curry with a side of rice and peas or better yet, a soft and delicious roti to tantalize your taste buds! I've got the perfect recipe for you to try – and yes, you are welcome;)
JAMAICAN CHICKEN CURRY
INGREDIENTS
INSTRUCTIONS
Heat the Instant Pot on Sauté and once it is hot, add the oil. When the oil is hot, add ginger and garlic, and stir for 20 seconds.
Add chopped onion and mix well (about 1-2 minutes).
Add the Jamaican curry powder, the sliced scotch bonnet pepper, thyme, salt and allspice and mix well.
At this point, if you have any browning or sticking that has occurred, use 1/4-1/3 cup of water to deglaze, scraping well, and allowing the water to evaporate.
Add chicken, potato, and 1 cup of water and set your Instant Pot to cook on high pressure for 6 minutes. If you are NOT using potatoes, reduce water to 1/2 cup.
Allow the pot to sit undisturbed for 10 minutes and then release all remaining pressure. Stir and serve.
Tips And Tricks For Making This Jamaican Curried Chicken
You can make this low carb by leaving the potatoes out of the recipe. Omitting the potatoes reduces carbs by 6 gms per serving.
You can serve this with rice to help cut down on the spice.
All the heat in this recipe comes from the Scotch bonnet pepper, so reduce this if you need it less spicy.
*Recipe taken from twosleevers.com
If you're not into chicken, go ahead and do chickpeas instead. I promise you it is just as mouth-watering and delightful. Scotch Bonnet peppers are extremely spicy, so if you are not into too much heat, beware! A little piece of pepper goes a long way, so for those who like the challenge I recommend a quarter piece at a time. Instant pots are handy in the kitchen, but if you don't have one don't worry, 'everyting' is irie mon! You can also use a skillet to achieve the same dish. I hope you enjoy my warm vibes on a frosty day. Happy Tuesday everyone!