Thanksgiving is around the corner for us Canadians, believe it or not, and we have much to plan and prep for the season. Yesterday, we talked about getting our front porch "Fall-ified," and today we will be discussing the menu. However, in light of my quest in becoming a full Vegetarian, I have dedicated this segment to doing Thanksgiving without a turkey! Crazy, huh?I'm sure some of you are rolling your eyes right now, but there must be others who are eager to find out more!
I have done a little research, and decided that my main dish this year will be, "Mushroom Wellington." A tasty, and unique alternative to meat dishes that are usually prepared, but without the bloated feeling after dinner! Check it out:
Vegan Mushroom Wellington recipe
Ingredients
4 large portobello mushrooms stalks trimmed and cleaned
3 large onions peeled and chopped
3 tbs olive oil
300 g baby spinach (10 1/2 oz)
4 sprigs of thyme leaves picked
1 vegan puff pastry
1 tbs dijon mustard
salt and pepper to taste
VEGAN EGG WASH
1 tbs aquafaba (chickpea water)
1 tbs almond or cashew milk
1 tsp neutral flavoured oil
1/2 tsp maple syrup or brown rice syrup
Instructions
Place a large frying pan over a low to medium-low heat. Add the 1 /2 tbs of olive oil followed by onion and reduce heat to low. Season with salt and pepper and cook, stirring occasionally, for 15 to 20 minutes, until the onions are golden brown. Keep an eye on the onions to make sure they don't catch.
Remove the onions from the pan and return the pan to the heat. Add the baby spinach and cook until wilted. Remove from the baby spinach from the pan and leave to cool.
Increase the heat to medium/high and return the pan to the heat. Add the remaining olive oil and place the mushrooms, top side down. Cook until lightly golden (about 5 minutes) before turning over and cooking for a further 5 minutes or until golden. Remove from the heat, and drain on paper towel top side up as they will release a lot of liquid as they cool. Transfer the onions, spinach and mushrooms to the refrigerator and cool completely.
Preheat the oven to 200 degrees Celsius (390 Fahrenheit). Place a sheet of baking paper on the baking tray and then place the puff pastry sheet on top. Spread half the caramelised onions over the middle third of the pastry, making sure to leave an extra 2cm (3/4 inch) border at the edge of the pastry. Top with half of the baby spinach. Spread the dijon mustard over the mushrooms and season well with salt and pepper. Place the mushrooms on top of the spinach. Top the mushrooms with thyme and the remaining baby spinach and onions.
Very carefully roll the pastry over the top of the mushroom mixture until you have a log. Press down to seal the edges. Roll over the log so that the seam is facing the bottom.
To make the vegan egg wash whisk all of the ingredients together in a bowl. Very lightly coat with the vegan egg wash. Place the pastry in the freezer for 10 minutes before repeating with another layer of vegan egg wash and freezing the pastry for a further 10 minutes.
Place the pastry back on the baking sheet and tray and place in the oven for 30 to 35 minutes, or until golden and flakey.
Notes
The mushroom wellington is best eaten as soon as it comes out of the oven as the pastry will start to soften as the mushrooms release their juices as they cool.
*Recipe taken from deliciouseveryday.com
A few great sides to accompany an attractive main such as this, would be the following:
Squash Lasagna with Spinach
Ingredients
Squash
1 small kabocha squash (3 1/4 pounds), quartered, seeded, peeled, and cut into 1/2-inch wedges
3 tablespoons unsalted butter, cut into small pieces
Coarse salt and freshly ground pepper
Bechamel
4 tablespoons unsalted butter
1 small onion, minced (1/2 cup)
Pinch of freshly grated nutmeg
Coarse salt
1 tablespoon Dijon mustard
1/4 cup dry white wine, such as Sauvignon Blanc
1/3 cup all-purpose flour
4 cups whole milk, plus more if necessary
Filling
1 1/2 cups fresh ricotta
2 cups coarsely grated Gruyere (10 ounces)
2/3 cup finely grated Parmesan (1 1/2 ounces)
Coarse salt and freshly ground pepper
Pinch of freshly grated nutmeg
1 large egg
Lasagna
1 pound lasagna noodles (12 sheets)
Coarse salt
Extra-virgin olive oil, for baking sheet
2 packages (10 ounces each) frozen chopped spinach, thawed and squeezed well to remove excess liquid (1 1/4 cups packed)
Directions
Step 1Squash: Preheat oven to 400 degrees. Arrange squash in a single layer on 2 rimmed baking sheets. Dot with butter and season with salt and pepper. Roast 5 minutes. Flip squash, coating in butter, and roast 10 minutes more. Flip again and roast until tender, about 2 minutes more. Remove from oven. Reduce oven temperature to 375 degrees.
Step 2 Bechamel: Meanwhile, melt butter in a medium saucepan over medium-high. Add onion, nutmeg, and 2 teaspoons salt. Cook, stirring occasionally, until onion is translucent, about 3 minutes. Stir in mustard, then wine. Boil 1 minute. Stir in flour and cook, stirring constantly, 30 seconds. Gradually whisk in milk and bring to a boil, whisking constantly. Reduce to a simmer; cook 3 minutes. (You should have 4 cups; add more milk if necessary.)
Step 3 Filling: Stir together ricotta, 1 1/2 cups Gruyere, and Parmesan. Season with salt, pepper, and nutmeg. Stir in egg.
Step 4 Lasagna: Cook noodles in a large pot of generously salted boiling water, gently stirring occasionally, until almost al dente, about 6 minutes (or according to package instructions). Drain. Rinse under cold water and lay noodles flat on a lightly oiled baking sheet to drain. (Do not let them touch.)
Step 5 Spread 1 cup bechamel in the bottom of a 9-by-13-inch baking dish. Arrange 4 noodles on top. Dot with one-third of filling. Top with half of squash, then spinach. Spread 1 cup bechamel over spinach. Top with 4 more noodles, one-third of filling, remaining squash, 1 cup bechamel, and layer of remaining 4 noodles. Finish with remaining filling and bechamel. Sprinkle with remaining 1/2 cup Gruyere.
Step 6 Cover lasagna with parchment-lined foil and bake until heated through and bubbling at edges, 35 to 40 minutes. Turn oven to broil, remove foil, and broil until golden brown in spots and bubbling, 2 to 5 minutes. Let cool 20 minutes before serving.
*Recipe taken from marthastewart.com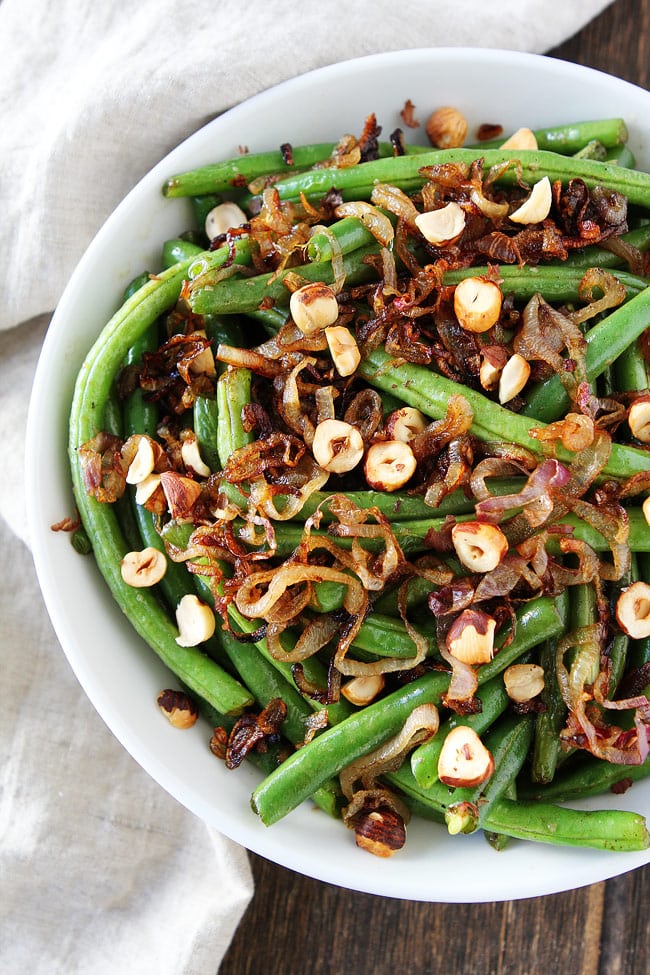 Green Beans with Brown Butter, Crispy Shallots, and Hazelnuts
Ingredients
4 tablespoons canola oil
3 shallots thinly sliced
1 1/2 pounds green beans ends snapped off
3 tablespoons butter
1/3 cup roughly chopped hazelnuts
Kosher salt and black pepper to taste
Instructions
Place oil in a medium skillet and add the shallots. Turn the heat to high and cook until the shallots start to bubble. Reduce heat to medium heat and cook, stirring often, until shallots are golden brown, about 12 minutes. Remove with a slotted spoon to a paper towel-lined plate. The shallots will crisp up as they cool.
Bring a large pot of salted water to a boil. Carefully add the green beans and cook until just tender, 3 to 5 minutes. Don't overcook the beans. You want them to be crisp.
Meanwhile, melt the butter in a large skillet over medium heat. Stir with a wooden spoon as it starts to foam. Remove the butter from heat as soon as it begins to turn golden brown and smells nutty. Drain the green beans and add them to the skillet with the brown butter. Toss until all of the green beans are well coated. Season with salt and black pepper, to taste.
Transfer green beans to a serving bowl or platter and top with crispy shallots and toasted hazelnuts. Serve warm.
*Recipe taken from twopeasandtheirpod.com
I have to tell you, I'm pretty ecstatic about Thanksgiving this year! This is not the end of great recipes for the big day, but just the beginning! I've got ideas for your table that will leave your guests wondering if they will ever touch turkey again! Now, if you plan on making the traditional meal, all power to you! Mashed potatoes and gravy fit a turkey like a glove, I can't lie. I'll be sure not to discriminate this holiday season, so there will be a few delicious recipes for you too! I hope I've got your juices flowing for your next Thanksgiving gathering, and remember to leave a little room for new and exciting! Happy Tuesday everyone!