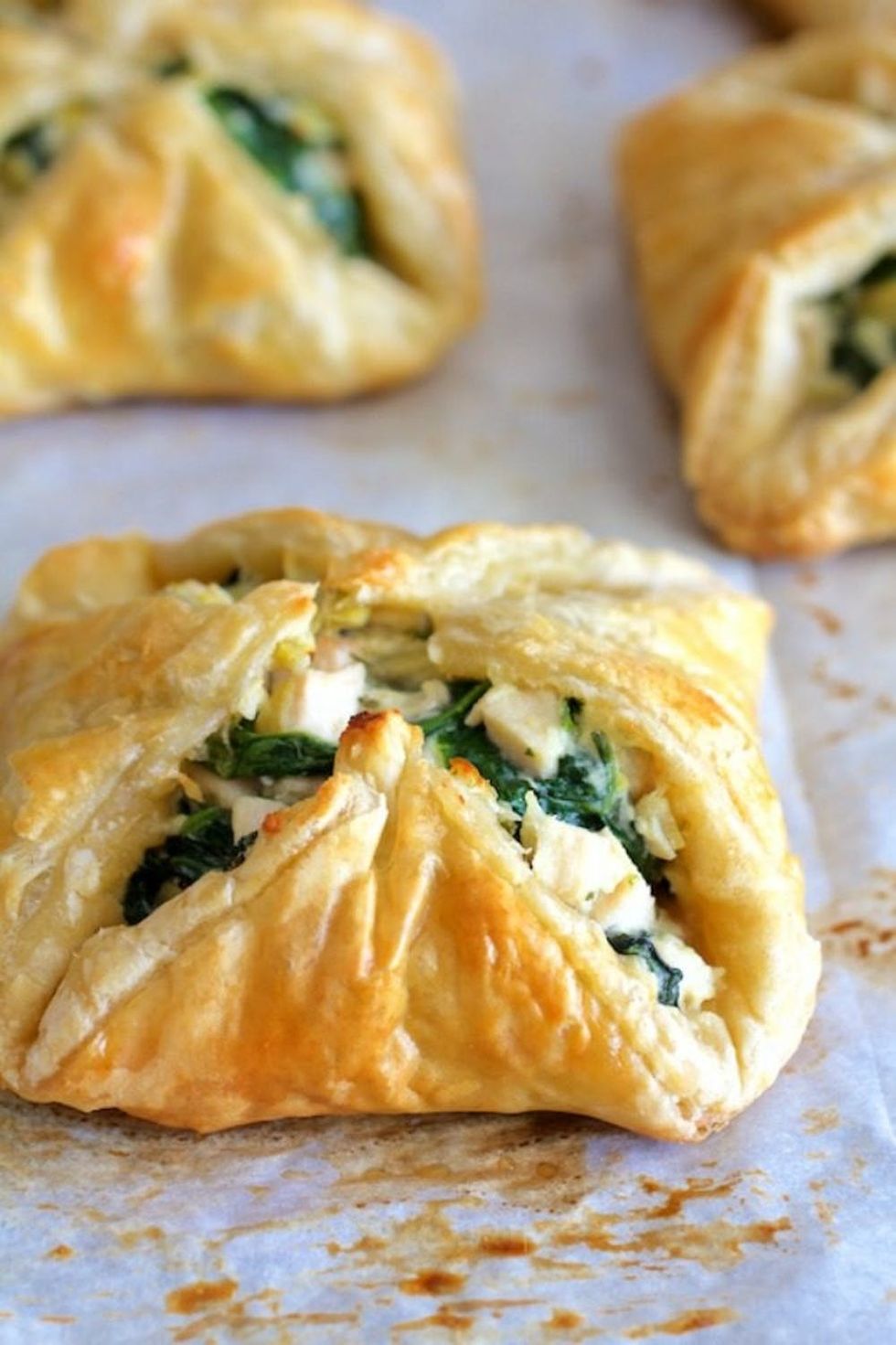 Let's talk savoury. I thought I'd tantalize you with a recipe you were not expecting, but will thoroughly enjoy. When we think pastries, we think sweet. However, there are so many recipes we can explore that allow the "salt cravers" an opportunity to indulge. Let us try, "Spinach, Artichoke and Chicken Puff Pastry Parcels," that are guaranteed the nod of approval at your dining table. Make them as a quick bite, or part of a complete dinner, with a side of soup or salad, that should satisfy the most ferocious hunger.
I found this recipe on the following website: "fromachefskitchen.com"
YIELD: 16 PARCELS
Chicken Spinach and Artichoke Puff Pastry Parcels
Chicken Spinach and Artichoke Puff Pastry Parcels are super elegant and perfect for any celebration!
Ingredients
2 tablespoons olive oil
2 (5-ounce) packages baby spinach
3 cloves garlic, minced
salt and freshly ground black pepper, to taste
2 boneless skinless chicken breast halves (approximately 1 pound), cooked, cooled and diced
1 can (15-ounce) artichoke hearts, drained, squeezed of excess moisture and chopped
1 container (6.5-ounce) herb and garlic cheese spread
1/2 cup freshly grated Parmesan cheese
1/2 cup mayonnaise
2 tablespoons chopped fresh chives
1 large egg mixed with 1 tablespoon water
2 (17.3-ounce) packages Pepperidge Farm® Puff Pastry Sheets (4 sheets)
Preheat oven to 400 degrees. Thaw puff pastry per package directions.
Heat oil in a skillet or saute pan over medium-high heat. Add the baby spinach and cook, 3-4 minutes or until wilted. Stir in garlic and cook 30 seconds more or until fragrant. Transfer baby spinach to a sieve or colander to drain. Gently press on the spinach with a wooden spoon to extract any excess moisture.
Combine spinach, chicken, artichoke hearts, herb and garlic cheese spread, Parmesan cheese, mayonnaise and chives in a small bowl. Season to taste with salt and black pepper.
Combine egg and water to form an egg wash. Set aside.
Roll out and cut each sheet into four even squares. Place even amounts of the chicken filling in the center of each puff pastry square. Dab a small amount of egg wash on each corner of the puff pastry. Pull the corners up and over the filling to form a square parcel. Dab each parcel with egg wash.
Bake for 20-22 minutes or until golden. If the pastry pulls away from the filling, gently press it back down with a spoon or spatula. Serve immediately.
As usual, I'm always excited to see how you all did with the recipes, so be sure to share pictures, questions and comments with me at the bottom of this page. Also, look out for the Parcels I will be making to share with you on "Home" day this Sunday.  Have fun baking tonight. Happy Thursday everyone!